If I'm honest, I'm writing this post as a displacement activity – I've already spent so long on Twitter that my eyes are stinging.  I've filled the last couple of weeks with preparations for Christmas – shopping, cooking, decorating the house,  and fannying about making and decorating a vintage-style Christmas cake. (Made the Santa last year)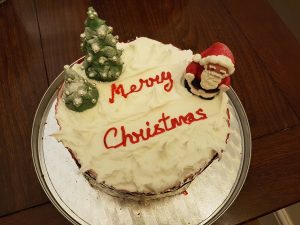 I've also been running some giveaways on my Facebook page, which involved some lovely interaction with readers. If you don't already follow my Facebook page, you can do so here. It's all been incredibly enjoyable – a perfect excuse to not think about my next novel.  It's not that I don't want to think about the new novel, but I'm struggling to pin down a workable plot, so I'm giving myself until 2nd January off, then I really need to sort it out. I will of course be blogging about how hard it all is…
In the meantime, it's cold and snowy outside, so I'm allowing myself to snuggle up in front of the fire, watch some telly and read some books.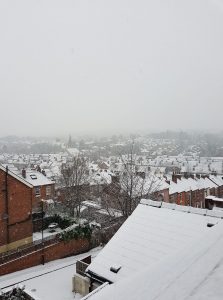 I've just started on Uncle Paul, by Celia Fremlin. It's the fourth novel I've read by this author and I can highly recommend it if you like something a little dark but rooted in the domestic. Celia Fremlin was writing mainly in the 50s and 60s, although there are later novels, too. She's often referred to as 'the British Patricia Highsmith' so that gives you an idea. I'm only a few pages into Uncle Paul,  but I can definitely recommend The Hours Before Dawn, The Long Shadow, and The Jealous One. So pleased to have discovered this author.
I'm sorry to report that I've yet again failed to reach my modest reading target of 50 novels, but I managed 41, not including those I've abandoned – maybe four or five? If a book hasn't grabbed me by page 50, I move on. So many books, so little time!
Anyway, a few crackers worth mentioning: The Power, by Naomi Alderman, The Dry, by Jane Harper, Birdcage Walk, by the late and truly wonderful Helen Dunmore, and – my absolute top read of 2018 – Commonwealth, by Ann Patchett.  I was transfixed by this book, which spans five decades in the life of a sprawling extended family. Sharply observed and utterly compelling.
I know I'm going to have to get back to working on my own novel soon, but I'm giving myself the rest of Christmas off (I'm stretching 'Christmas' right up until 2nd January). I'm also wasting time on Twitter and Facebook,  eating too much leftover Christmas food, and washing it down with Christmas booze.  Ah well.
There we are then, I've done something mildly useful in writing this post, because I suppose any writing is better than none. Oh,  and one last thing – my first novel, The Things We Never Said, is on a special 99p Kindle deal at the moment. I've no idea how long this promotion will last, so grab it while you can! Click here to go to the deal.
I'll be publishing more posts about my  writing process and progress (or lack of) over the coming weeks and months, but in the meantime, enjoy whatever you're doing, reading,, or writing over the final days of 2017. Let's hope 2018 will be happy, peaceful, creative and productive for us all. Happy new year!  Susan x