It's been a busy couple of weeks in terms of the writing life (even though I've done very little actual writing – more of which in a bit).
Party time
On the 16th, it was the Simon & Schuster 30th birthday bash.  What fun!  The occasional publishing party is one of the few things about being an author that is genuinely glamorous. For once, we get the chance to put on a posh frock and slap on some make-up instead of spending the whole day slobbing about in our PJs.
It's also lovely to have the chance to catch up with other authors, and socialize with the publishing team. We were plied with  prosecco, wine, and cocktails, and entertained by this wonderful string quartet. And, as the party took place at the National Gallery in London, we were also surrounded by beautiful paintings. It was all very elegant.
A first look at If I Should Fall
Not long after I arrived back in Sheffield, the page proofs for my next novel, If I Should Fall arrived. This is my last chance to make corrections to the manuscript before it goes to print. It's also hugely exciting, because it's the very first glimpse of what the book will actually look like.
I started working on them more or less straightaway and oh my goodness – what on earth possessed me to use all those semicolons?  I do like the odd semicolon – I think sometimes it's the only appropriate punctuation – but I really shouldn't have used so many. Most of my corrections so far are 'change semi-colon to full stop'.
So, proofs are genuinely thrilling, but not quite as thrilling as the cover, and my editor says we should have a draft of the design by mid-November. I'm so excited about the cover for this one and I can't wait to see what the fabulous designers have come up with!
Weekend retreat/redrafting course
Then last weekend, I put on my teaching hat from Saturday morning until Sunday evening. My fellow author and bessie mate Russ Thomas and I have been planning this redrafting  and retreat weekend for months, and it was fantastic to finally deliver the course. We had 12 lovely writers join us for the weekend in the pretty little  Peak District village of Edale.  Everyone worked incredibly hard, fuelled by coffee and biscuits during the day, and something a little stronger on the Saturday evening.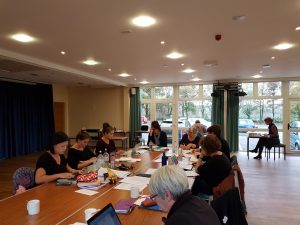 Saturday's hard work was followed by a readings session in the evening with wine and nibbles. It was fantastic to hear extracts from all these wonderful novels, and we were incredibly impressed with the standard of work.
On Sunday afternoon, having re-thought, re-arranged, and re-drafted like mad, our writers said fond farewells to new friends and went their separate ways, obviously tired, but happy and inspired to really get those novels into shape.
I even managed to do a little writing myself while I was there. If you saw my last blog post, you'll know that I'm in the process of trying to settle on an idea for my next novel. I don't want to say too much yet because it's very early days, but I think I might be onto something. Lots more thinking and planning to do before I start writing properly, but I'm enjoying writing little character sketches and exploring viewpoints etc.
Facebook giveaway!
And finally… if you follow my Facebook page you may have already seen this, but if not, and if you fancy winning a signed copy of The Things We Never Said, there are two more days to get in with a chance.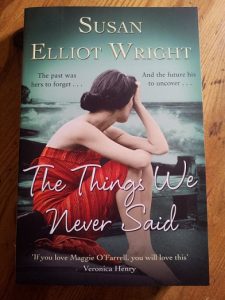 Hop over to Facebook now, 'like' my page and leave me a comment, and your name will go into the hat ( or carrier bag) for the draw, which will be on Saturday 28th at 12 noon – I'll announce the winners at 4pm on Facebook.  https://www.facebook.com/susanelliotwrightwriter/
And if you fancy a copy of The Secrets We Left Behind, keep an eye on my Facebook page and on Twitter for an announcement of the next giveaway, which will run through November. And watch out for an extra special giveaway in December!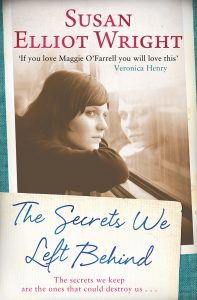 That's all for now – see you again soon!
Susan x