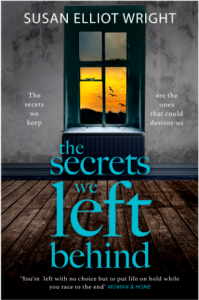 She has built the perfect life: a husband who adores her, a daughter she is fiercely proud of and a home with warmth and love at its heart. But things were not always so good, and in order to get where she is today she has done things she can never admit.
Then one winter's evening a phone call comes out of the blue. It is a voice from long ago, from a past she has tried so hard to hide. Scott knows who she really is and what she has done. But now he is dying and he gives her an ultimatum: either she tells the truth, or he will.
And so we are taken back to that long, hot summer of 1976, to a house by the sea, where her story begins and where the truth will be revealed… .
Press & reviews:
The Secrets We Left Behind featured in this Daily Express's list of Best Women's Fiction
And here are just a few of the reviews:
http://www.seeingspots.co.uk/2014/10/book-review-secrets-we-left-behind.html

http://nblo.gs/10BbG8
http://www.goodreads.com/review/show/1036096453?book_show_action=true&page=1
http://www.goodreads.com/review/show/928500429?book_show_action=true&page=1
http://www.goodreads.com/review/show/901644883?book_show_action=true&page=1
http://www.goodreads.com/review/show/1043403546?book_show_action=true&page=1
http://www.goodreads.com/review/show/993288823?book_show_action=true&page=1