In this installment, I'm going to talk about how, after the wonderful experience of writing The Flight of Cornelia Blackwood, I developed what I think may be true writer's block. (Click the links on the right to catch up with the first three posts in this mini-series)
After delivering the final version of the MS, I gave myself three weeks off, then started work on a plan for the next novel. This is how I've always worked – finish a book, deliver it, start a new book. I had an idea based on my own family, a story going back to the 1920s, of infidelity, illegitimacy, and true, long lasting love. But a novel can only be 'based' on a true story – you still need a plot.
After weeks of approaching the idea from different angles, I couldn't seem to make it work, so I abandoned it and returned to an idea I'd been thinking about a couple of years ago, where a woman raises her sister's child as her own. Long story short, I remembered why I abandoned it before, and it was the same reason I gave up on the family story – I couldn't find a strong enough plot.
Another idea started to take shape, and I even had a rough idea of how it might progress. I began to feel excited, I had the atmosphere of the novel, the feel of it; I started to hear that wonderful 'hum' in the back of my head…
But there were two problems: 1. My agent thought an aspect of the idea was too similar to my previous novels – a fair point, which had occurred to me but which I'd willfully ignored, and 2. I couldn't find a way into the past story from the present.
I spent weeks trying to make a plan, to repeat the experience I'd had with Cornelia Blackwood. But I couldn't find a way of telling the story without giving too much away too soon. Unable to move forward and anxious about not writing at all, I made a start anyway, telling the present day strand from the POV of a supporting character and hoping a solution might reveal itself.
I enjoyed discovering the characters and exploring scenes in which tensions developed and backstory emerged. But 30,000 words in, I still hadn't found a suitable way in to the past story. I had a chat with my agent who came up with some brilliant suggestions. I dived in again, quite excited by the new approach. But then I realised it had changed the focus so much that my original idea had all but disappeared.
So I put that one aside, too.  Initially undeterred, I began toying with two more ideas, but again, I couldn't seem to pin down an actual plot. I had interesting situations and ideas for characters, but every time I tried to develop those ideas, to make some notes, or sketch out how things my progress, I felt an almost physical barrier.
Over the course of a few weeks, sitting down to work became harder and harder. The barrier grew bigger and stronger. It was like a massive iron plate in my chest that sent out weird impulses to my brain, making it impossible for me to pick up a pen or open a document on my computer. When I thought about trying to work through a new idea, I felt sick with fear and physically and mentally paralysed. When anyone asked me how the writing was going, my eyes filled with tears and I became too choked to speak.
I decided to stop trying to work out a new idea and just write a scene instead – I've always found this useful in the past when I've been stuck. The point is to 'play' with fiction, to rediscover the fun of creativity rather than get hung up on whether it's going anywhere. But as I tried to do this, I once more found myself assailed by that same feeling of paralysis. When I did manage to force myself to write something, the writing was flat and toneless, dead on the page. The more words I added the more painful the process became. It was like trying to reanimate a corpse.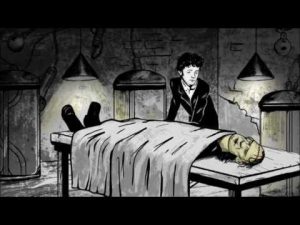 And I've included this image because I keep thinking of a line from an old Smiths song: 'I can smile about it now, but at the time it was terrible'.
In the fifth and final part of this blog post, I'll tell you what steps I've taken, what helped and what didn't, and how I'm gradually, tentatively, emerging from the fog.