Instead of THE WRITING LIFE, this is a long-ish one-off post about my dog, Henry, so if you're not a dog person, it might not be your cup of tea. At just nine years old, Henry went to that great doggy kennel in the sky late on Monday night. He became ill suddenly on Friday morning and deteriorated rapidly. We're devastated. Losing a pet is not the same as losing a human family member – of course it isn't  – but if you're one of those "it was only a dog" people, I'd suggest you move along.
I'm writing this partly because I can't concentrate on anything else, but partly as a sort of obituary. We've loved every dog we've had, but this one was something else, and the absence of him in this house is almost palpable. I thought it would be nice to record some memories and share some photos, and perhaps work out why Henry – sometimes 'Henners', occasionally 'The Henster' – was so very special.
He'd been through so much in his short life. He came to us aged ten months as a private rehome and when my husband, who doesn't drive, went to collect him on the train (I was at work) he was taken aback by how big Henry was – he looked 'medium' in the photos, and we'd agreed we wanted a medium-sized dog because our house was very small. My husband was a bit worried I'd think he was too big, but he was so well-behaved that when they took the three-hour train journey back home to Sheffield together, the other passengers couldn't believe that they hadn't been dog-and-owner for years
The moment I set eyes on Henry, I knew I loved him.  It's true he was a big lad. He was half Lab, half Springer, but people often asked if there was 'some Great Dane in there somewhere', and maybe there was – his paws were huge! What I saw was an overgrown puppy with the shiniest coat I'd ever seen and the silkiest ears I'd ever stroked.
He settled in quickly and everyone who met him loved him for his gentle nature, his constant smile, and his ecstatic tail wagging (more on this in a moment). He was a beautiful animal to look at, too, and people would often stop us in the street to admire him. He was big, strong, and well-muscled, and by 'eck if he trod on your toe, you'd know about it. He weighed 36kg – just over five and a half stones (more on this in a moment, too.)
He was virtually fully grown when he came to us, but he was very puppy-like. He liked soft toys, and I loved how excited he'd be when I came back with a carrier bag from a charity shop. He'd ram his nose into the bag , then sit and wait like a Good Boy for me to hand him the teddy bear, then he'd carry it carefully to his bed and disembowel it with relish, tail going like the clappers. He wasn't a chewer as such, though, and he never destroyed anything other than his own toys. We were enchanted once to find he had put both my husband's trainers in his bed – not chewed, just there for comfort. Not sure cuddling the other half's trainers would do it for me, but still!
So, back to that tail. We'd had him about three weeks when we noticed drops of blood spattered up the walls. At first, we couldn't work out where it was coming from, then one day I stroked him to the end of his very long tail and found it was bleeding at the tip. The vet warned us that dogs with Happy Tail Syndrome – yes, it's a Thing – often had to have their tails amputated because healing was so difficult. We were horrified and wanted to try healing it first.  He was fitted with one of those plastic cones so that he couldn't chew at the dressing, but that didn't stop him from wagging it off.  Every time the dressing was replaced, it would be off again in no time, and his tail would start bleeding again. One day, we noticed the dressing had gone but we couldn't find it – it was three inches of plastic tube, covered in cotton wool and wrapped in stretchy blue bandage.
We searched high and low but no joy. On the walk  to the vet's for re-dressing, Henry stopped for a poo. Yep, there it was, three inches long and an inch wide, and it had (thank God) passed right through his digestive system without doing any damage.  It soon became clear that the only real option was amputation. It was horrible, and we felt like monsters. He'd come to live with us and trusted us, and we'd let them chop his tail off.  I still shudder to think of it. But he recovered quickly, the little five -inch tail he was left with healed and all was well.
We enjoyed life with Henry so much. He loved water and would go crashing into it whenever he could. He loved food, too, and would snaffle up bread meant for the ducks, bits of discarded burger and anything else that took his fancy, and he wasn't fussy about whether it was actual food – he would eat any old shit. And I mean that quite literally. He was fond of sheep and rabbit poo, and on one holiday in the Yorkshire Dales, he gobbled up so much of the stuff that his teeth were green with it and his breath stank of it. The first time he had a bout of vomiting and diarrhoea, we assumed he'd just eaten something nasty. He was quite ill and had to be hospitalised for a couple of days. He lost a little weight, but we assumed he'd regain it when he was better.
We started to notice he was prone to diarrhoea, so we were careful with his diet, but very slowly, so that it was barely noticeable at first, he began to lose weight steadily and relentlessly. It wasn't that he had no appetite – he would eat an entire bowl of dry food in less than 30 seconds (we timed it). And although he always strived to be a Good Boy, sometimes he couldn't help himself, and if I left him and unattended food in the same room, well, I think he felt it would be worth the telling off. One day, I'd made some Haloumi burgers as part of a meal to serve to friends later. I think I'd made ten, but by the time I came back from the loo, there were four.
Trouble was, he was so tall, he could easily reach the kitchen counter. The best one was when I was preparing the food for my daughter's wedding. I'd spent all morning making two biggish dishes of brandied chicken liver pate. I'd decorated them with bayleaves and cranberries and poured clarified butter over the top and everything – they looked really good. Henners was asleep in his bed and was actually snoring when I popped up to the loo. When I came back, he was standing on his hind legs, licking the bejesus out of the pate. He'd had about half of one dish and had licked it into the most perfect curve. I shouted at him and saw the whites of his eyes as he glanced at me, but then he speeded up the licking, clearly having calculated that there was time to get a bit more down his neck  before I could get across the room.
Most dog owners will be familiar with the situation where you're telling the dog off and laughing at the same time. Once I'd told him off, part of me just wanted to let him have the rest of the pate, because there was bugger all else I could do with it, but maybe that would have sent the wrong message…
We started to notice he was getting thinner – his collar was loose and he didn't look as chunky. We took him to the vet and weighed him. He's lost 6kg – a significant loss. There then followed a long period of examinations and blood tests and x-rays, but nothing showed up. Treatment, which consisted mainly of steroids, didn't seem to be doing very much. We tried different diets – he still had a hearty appetite – but the vet said it looked like his body wasn't absorbing proteins. The weight continued to fall off him. When he hit 25 kg, we were at our wits' end. The vet was completely stumped. We tried all the different prescription diets but by this time, he looked like a Greyhound and we had to reduce his exercise so that he didn't burn too many calories. The vet feared that his organs would start failing.
At the 11th hour, Royal Canin brought out a new hypoallergenic food that worked. It cost us £100 a month to feed him (we were lucky that we'd recently received a small inheritance, because I don't know how we'd have managed otherwise) More worrying was one occasion when there was a problem with production and we couldn't get any more food for two weeks. Fortunately, we managed to eke out what we had, but given it was the only thing keeping him alive, what if that happened again? It wasn't as simple as using the right ingredients, it was that it had been processed in such a way that he was able to absorb the nutrients.
It was a struggle financially, but he regained most of the weight. We did this for a couple of years before moving to raw feeding, which was a revelation – less than half the cost, and he never looked back. He maintained a healthy weight and a gleaming coat from then on. It's a tribute to our veterinary surgery that in spite of all the unpleasant treatments and investigations, he still loved going there. He'd charge in, run straight up to reception, stand on his hind legs and plonk his paws on the counter, ready for a treat.
In the last few years, he's given us so much joy. He was with one or other of us most of the time, often sleeping next to my desk while I worked, or stretched out in the living room with us in the evenings. We had some wonderful holidays with him – he seemed to know when we were going on holiday and wagged his little stump like mad every time we walked into a holiday cottage. His daily walks, while we sometimes thought of them as a bit of a chore, were always a pleasure the moment we were out walking rather than just anticipating the walk.
Before we had Henry, we had a lovely little border collie called Jasper, and during that time, I thought of us as a couple with a dog. Very soon after Henry came to us, I realised I was thinking of us as a family of three. If you've read this far down the post, you're probably a dog person, so you'll probably understand. It seems most dog owners have one 'special' dog in their lives, and Henry was definitely ours. I'm not sure I've still fully taken in that he's gone for good, and I know the next days and weeks are going to be difficult. As I said before, it's not like losing a beloved family member, but it is a bereavement. I have lost a dear friend and companion.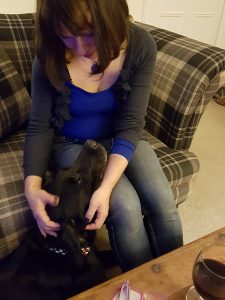 I miss the comforting weight of his head on my knee and his great big dry paw in my hand; I miss lying on the floor with him and cuddling his warm, solid body; I miss the strange basmati-rice smell of him first thing in the morning; I miss the funny noises he'd make when he was excited, the exaggerated sighs when he thought it was time I took him out, the sound of him snoring. I even miss the sound of him eating. I vacuumed the house yesterday, and it occurred to me that it would probably stay looking clean and newly-vacuumed for quite a while. But right now I'd give anything to have the place covered in dog hair and muddy pawprints.
Grief, as they say, is the price we pay for love. We'll get another dog, for sure, but we need to fully grieve for Henry first. It's been nice writing this post and reliving some of the memories. My eyes keep leaking, and they will do for a bit, I should think. If you're a pet-person so you'll have been through this and will know this sadness. I hope you've enjoyed some of my memories and photos. I'll wrap this up with one of my favourite pictures.  It was another Dales holiday, and in this one, the way the sun catches his shiny coat makes it look like he's wearing a blond wig. But the best thing about it is, you can tell by his eyes that he's smiling.  And I'll never forget that smile.
I'll be back in a week or two with writing-related stuff, but in the meantime, you can catch up with me on Twitter or Facebook See you soon!