FORTHCOMING EVENTS*:
This is the page where you can read about what I've been up to recently, what I'm doing at the moment and what's coming up in the near future.
* for details of forthcoming workshops, please go to the workshops page 
LATEST NEWS!
October 2022
27 October – Launch event to celebrate the publication of All You Ever Wanted. (Free event, all welcome)
I'll be in conversation with author Russ Thomas, I'll do a couple of short readings, then we'll have a brief Q&A  after which I'll be happy to sign copies of the book. It's a free event and there will be wine!
Venue: Waterstones, Orchard Square, Sheffield S1 2FB
Time: 6:30 for 7pm
12 October – Masterclass on writing the dual narrative (Free event, all welcome)
Venue: Sheffield Hallam University, Norfolk building, room 210
Time: 6:30
September 2022
25 September 2022  No Limits Literary Festival, Scunthorpe
I'll be chatting with Tracey Scott-Townsend about The Flight of Cornelia Blackwood in particular, And books and writing in general. (I might just mention the forthcoming All You Ever Wanted, too!)
Free event!
Time: 1pm
Venue: the Regency Dining Room, Normanby Hall, Normanby Road, Scunthorpe
OLD NEWS
August 2021
Interview in the Sheffield Star weekend supplement
Lovely three-page piece about me in the Sheffield Star 'Weekend'. I was interviewed by the Star's Rob Hollingsworth who caught up with me hanging around a local church yard (as you do). This was Ecclesall Parish Church, a beautiful church buidling set in an historic and hugely atmospheric graveyard.
March 2021
Interview on The Blythe Tapes
I did this YouTube interview with fellow author Daniel Blythe for his new series of video chats with authors, artists and editors. We chat about my journey to publication, my almost-decade as a published author, and a little about 'Women's Fiction' and the experience of women in the publishing industry.  Check out  The Blythe Tapes
Well, nothing, really, thanks to Covid 19. Keep checking back, though – stuff will be happening in 2021, even if it's only online
October 2019
Off-the-Shelf Literary Festival
13th October 2019 – I'll be appearing alongside the poet and novelist Helen Mort as part of this year's Off The Shelf Festival to talk about my novel, The Flight of Cornelia Blackwood. there will be a Q&A with the audience after the talk, and Helen and I will be signing copies of our books.
Time: 6pm
Venue: the Cadman room, Millennium Gallery, Arundel Gate, Sheffield S1 2PP
September 2019
Publication!
The Flight of Cornelia Blackwood is out in paperback on 19 September – hurrah!!
On 23 September, I take up my post as Royal Literary Fund Fellow at Sheffield University, which makes me sound like a proper grown-up!
July 2019
THE FLIGHT OF CORNELIA BLACKWOOD and WHAT SHE LOST are both in the Kindle summer sale at just 99p! I have no idea how long this will last, so grab a bargain while you can!
June 2019
I can npw announce that in September this year, I will be taking up a post at Sheffield University as a Royal Literary Fund Fellow. I am very chuffed about this.
May 2019
So I can now reveal the paperback cover for The Flight of Cornelia Blackwood! As you can see, it has a very different feel from the hardback.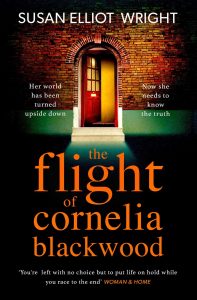 The paperback edition will be out 19th September.
February 2019
Had a fabulous launch event for The Flight of Cornelia Blackwood on 28th Feb. If you'd like to see a couple of video clips of the talk and a short reading, hop over to my Facebook page
The book was published in February in hardback! It's my first ever hardback book, and it looks absolutely beautiful. You can order the book here
***
October 2018
Very excited because the first proofs of my fourth novel,  The Flight of Cornelia Blackwood, have just arrived! This book addresses some of my favorite themes around motherhood, although it's a little darker than my previous novels. Out in February 2019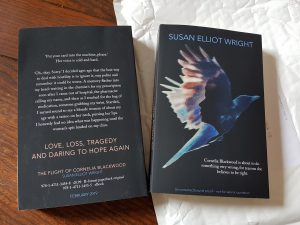 My third novel, What She Lost, was published in March 2017
Eleanor and her mother Marjorie have always had a difficult relationship and although they've tried, they have somehow just failed to connect.


Now Marjorie has Alzheimer's, and as her memory fades, her grip on what she has kept hidden begins to loosen. When she calls her daughter to say, 'There's something I have to tell you', Eleanor hopes this will be the moment she learns the truth about the terrible secret that has cast a shadow over both their lives.
But Marjorie's memory is failing fast and she can't recall what she wanted to say. Eleanor knows time is running out, and as she tries to gently uncover the truth before it becomes lost inside her mother's mind forever, she begins to discover what really happened when she was a child – and why…
Order on Amazon Kindle    Order on Amazon paperback
Order paperback from Waterstones
17 June 2015
The Italian translation of The Secrets We Left Behind is published by Leone Editore under the title Segretti Inconfessabli, which translates (very roughly) as Unmentionable Secrets.

Publication of The Secrets We Left Behind by US publisher, Skyhorse
1 April 2015 –
The German edition of The Things We Never Said Is published by Aufbau under the title, Ich Habe Dich Immer Geliebt, which translates as: I Have Always Loved You. I quite like the cover which is similar to the English version in that it shows a woman by the sea, and we can't see her face (or in this case, her head!)